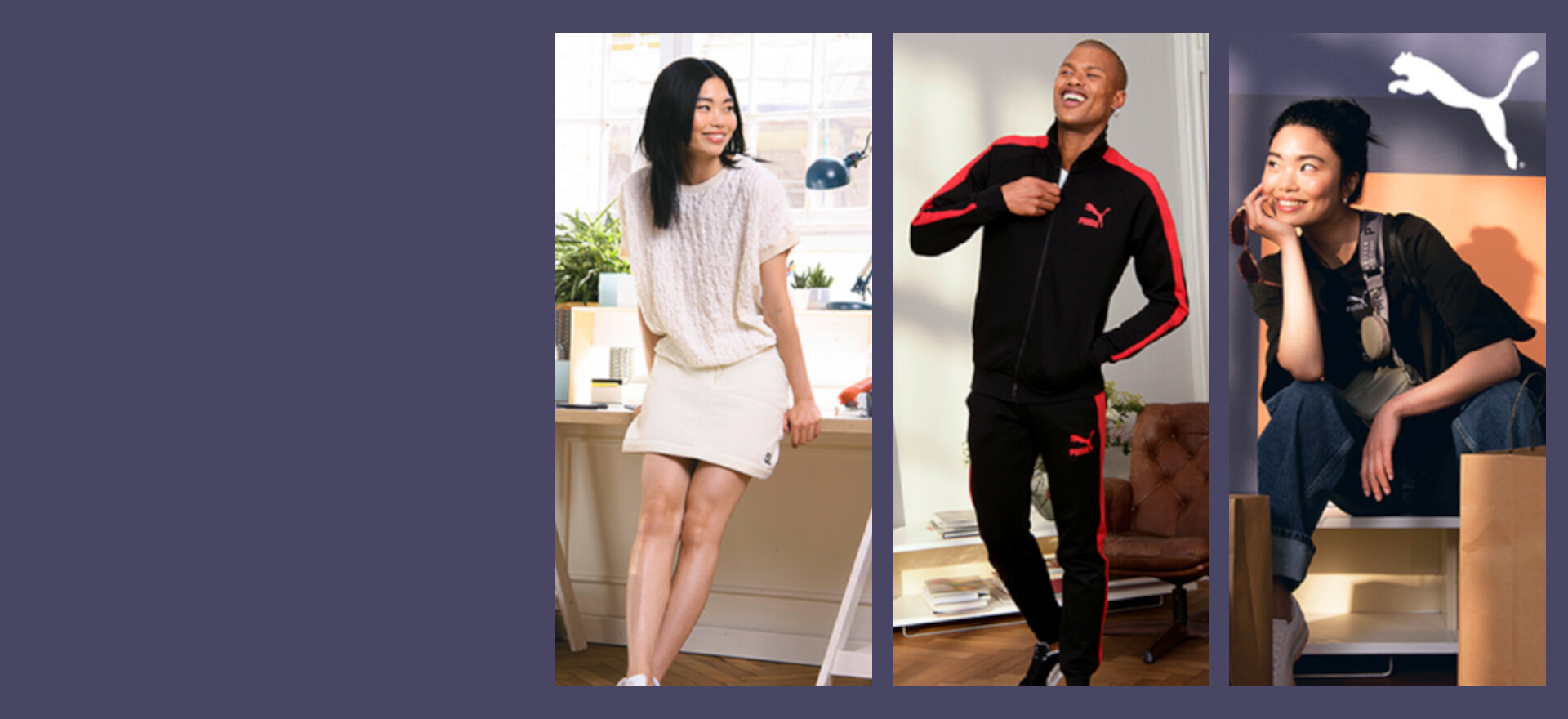 Doe mee met

het PUMA
Affiliate-programma
Meld je aan en verdien
commissies door PUMA-producten
te promoten bij je publiek.
Doe mee
PRESTATIES OP ALLE NIVEAUS
We zijn altijd op zoek naar partners die onze passie voor sport en lifestyle delen via de inhoud die ze publiceren. Het maakt niet uit of je een fitnesskleding-affiliate wilt worden, je je wilt concentreren op ons uitgebreide assortiment lifestyle-schoenen of deel wilt uitmaken van onze voetbal-affiliate-programma's. We willen graag met je in contact komen. Sport heeft de kracht om ons te transformeren en sterker te maken. Als een van 's werelds toonaangevende sportmerken is het niet meer dan normaal dat we op hetzelfde speelveld willen staan als de snelste atleten ter wereld. PUMA deelt enthousiasme in teamsporten, innoveert golf, brengt stijl naar hardlopen en training, en prestaties in motorsport. In het licht van onze FOREVER FASTER-missie tillen we PUMA naar een hoger niveau. We willen samenwerken met de snelsten, die onze waarden delen. We zoeken mensen die onze passie uitdragen binnen ons sport-affiliate-programma.
Voordelen voor PUMA-affiliates
Concurrerende, op stimuleringen gebaseerde commissiestructuur

Hoe meer verkopen je genereert, hoe hoger je commissie.

Waarde toevoegen

Verbeter je website of een ander digitaal platform en bied meer waarde aan je publiek door PUMA-producten te promoten.

Exclusieve aanbiedingen

Je maakt deel uit van onze missie en merkcampagnes en profiteert van exclusieve partnercampagnes en exclusieve aanbiedingen voor affiliates.

Vertrouwde technologie

Tracking en rapportage verzorgd door CJ Affiliate (eenvoudig te gebruiken rapportagetools en mogelijkheden voor het volgen op verschillende apparaten, enz.).

Uitgebreide attributieperiode

Attributieperiode van maximaal 30 dagen.
Voor wie is dit programma?
Eigenaren van mode- en sneakersites, vergelijkingswebsites, influencers en iedereen die het snelste sportmerk ter wereld wil promoten. Link naar PUMA.com en vergroot de relevantie voor je publiek.
Algemene voorwaarden
Zie algemene voorwaarden op de aanmeldpagina wanneer je je registreert.
veelgestelde vragen
Waar en hoe kan ik me aanmelden?
Om je aan te melden als PUMA-affiliatepartner, ga je naar de CJ Affiliate-pagina en vul je het registratieformulier in.
Wanneer & en hoe word ik betaald?
De commissiebetalingen worden afgehandeld door CJ Affiliate,
hier
vind je meer details.
Hoe zorgen jullie ervoor dat mijn bestellingen correct worden gevolgd?
PUMA werkt alleen met de toonaangevende affiliate-platformen ter wereld. Dankzij hun ultramoderne technologie zorgen we voor een uitstekende tracering.
Bieden jullie rapportages en inzichten?
Eenmaal aangemeld kun je gebruikmaken van de rapportage in de CJ-dashboards. Neem voor meer informatie contact op met je CJ-accountmanager.